The Real Estate Revolution: Short-Term Rental Investments Demystified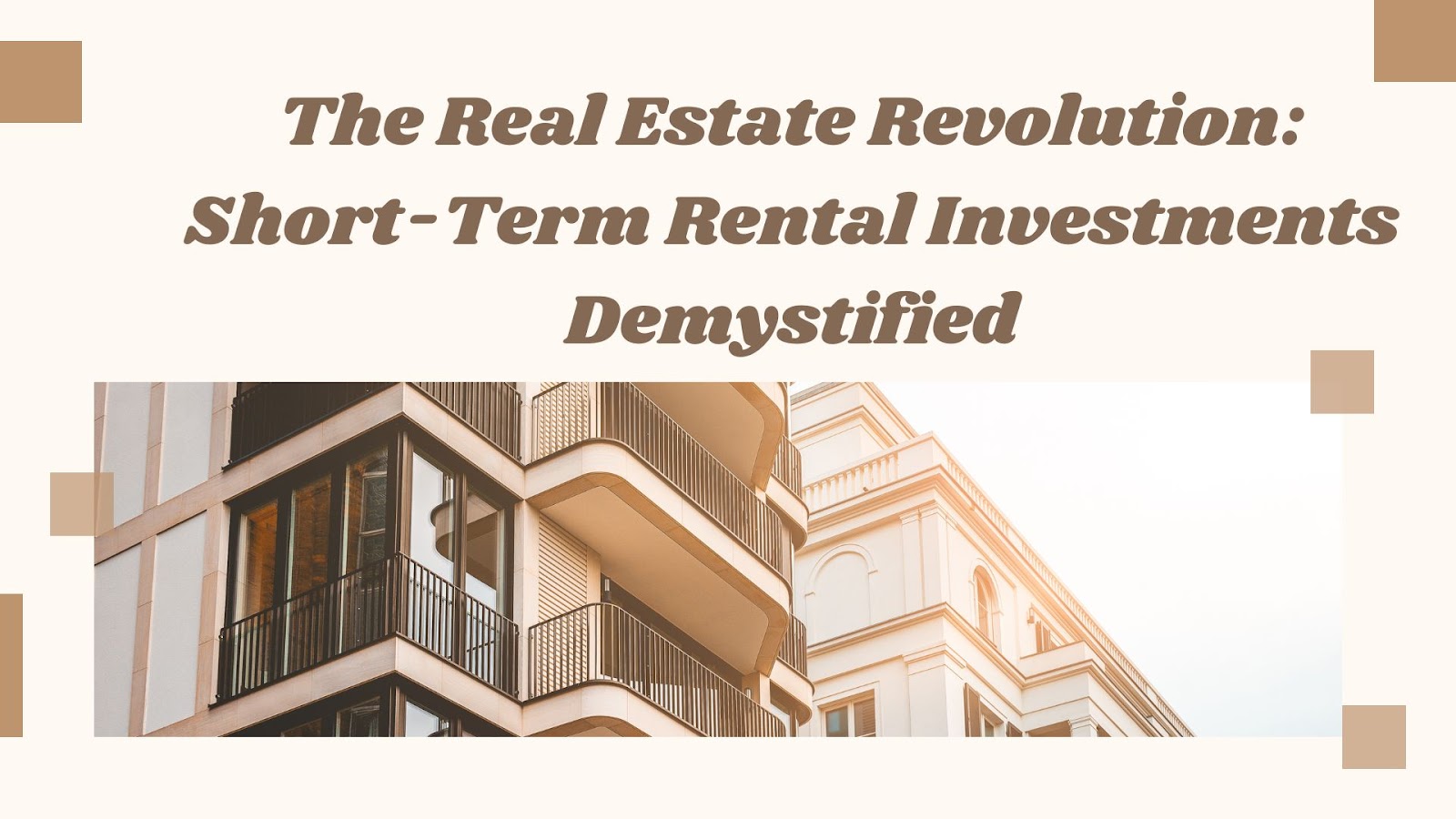 The real estate landscape is undergoing a monumental shift. As the dynamics of property investing evolve, short-term rentals are emerging as the new preferred choice for owners and investors. This revolutionary concept is transforming traditional notions of rental income and management.
In this comprehensive guide, we will demystify the realm of short-term rental investing and explore the strategies and insights that can help you navigate this real estate revolution successfully.
The Evolution of Accommodation
Before we delve into the intricacies of short-term rental investing, it's crucial to understand how the accommodation landscape has evolved:
1. Rise of Online Platforms
The advent of online platforms like Airbnb, Vrbo (formerly known as HomeAway), and Booking.com has empowered property owners to connect directly with travelers. With these platforms, managing short-term rental properties is easier than ever.  
2. Changing Traveler Preferences
Modern travelers seek more than generic hotel rooms. They crave unique experiences and local immersion. Short-term rental investing offers the opportunity to stay in diverse properties, from cozy apartments in urban centers to charming cottages in picturesque countryside settings.
3. Flexibility and Cost-Effectiveness
Short-term rentals provide travelers with flexibility and cost-effective solutions, particularly for families and groups. These accommodations often offer more space, kitchen facilities, and a homely atmosphere all at competitive prices.
4. Profit Potential for Investors
For real estate investors, short-term rental properties have opened new doors to profitability. With the right approach, investors can generate substantial rental income, sometimes exceeding what long-term leases offer.
Key Strategies for Short-Term Rental Investing Success
Unlocking the potential of short-term rental investments requires a strategic approach. Here are key strategies to consider:
1. Property Selection
The location of your property is paramount. Investing in areas with high demand from tourists or business travelers is fundamental. Proximity to attractions, accessibility, and local appeal should all be considered when choosing a property.
2. Property Preparation
The presentation of your property matters greatly. Well-furnished, clean, and aesthetically pleasing accommodations tend to attract more guests. Consider investing in professional photography and staging to showcase your property in the best possible light.
3. Dynamic Pricing
Take advantage of dynamic pricing strategies that allow you to adjust rates based on various factors, such as seasonality, local events, and fluctuations in demand. Utilize tools and software designed for optimizing pricing to maximize your revenue.
4. Effective Marketing
Leveraging online platforms and employing effective marketing techniques are crucial for reaching a broader audience. Crafting detailed listings, using high-quality images, and garnering positive guest reviews all contribute to enhancing your property's visibility and driving bookings.
5. Guest Experience Management
Ensuring exceptional guest experiences is paramount. Timely communication, seamless check-in processes, and responsive customer service all play a significant role in guest satisfaction. Positive reviews from satisfied guests can further boost your property's appeal.
Technology Integration in Short-Term Rentals
While marketing is crucial, the integration of technology in the short-term rental industry is revolutionizing the way property owners operate and interact with guests. Let's delve into how technology is elevating the short-term rental experience.
According to a study by Forbes, operators introducing lighting, heating, damage, leak detection, and other smart-sensor-led features can save up to 28% in resources while protecting their investments.
Apps like Pillow allow owners to manage bookings, communicate with guests, provide digital check-in instructions, and even control smart home devices remotely. Owners can identify operational inefficiencies and maximize revenue with data insights.
Financial Considerations
Before embarking on short-term rental investing, a thorough assessment of various financial aspects is essential,
1. Initial Investment: Calculate the initial investment required for property purchase, furnishing, and any necessary renovations or improvements to make your property guest-ready.
2. Operating Expenses: Estimate ongoing operating expenses, including property taxes, insurance, utilities, cleaning, maintenance, and any management fees if you opt for professional property management.
3. Revenue Projections: Develop revenue projections based on occupancy rates and nightly rates. It's advisable to be conservative in your estimates to account for potential fluctuations in demand.
4. Return on Investment: Determine your expected return on investment over time. Evaluate whether short-term rental investing aligns with your financial goals and risk tolerance.
Overcoming Challenges and Mental Barriers
With the integration of technology streamlining operations, it's essential to address the challenges and misconceptions surrounding short-term rentals. Let's debunk some myths and provide transparency on the potential roadblocks.
A common concern is the higher risk of property damage with short-term guests. However, leveraging security deposits, insurance, and background checks can mitigate this.
Starting with lower-value properties also reduces the damage liability. Many assume short-term rental income is not stable.
Leveraging data, analytics, and dynamic pricing based on demand forecasts can ensure high occupancy and maximize yields.
Avoiding seasonal slumps takes strategic planning. While restrictions in some areas limit viability, many local governments recognize the benefits of short-term rentals.
Getting permits and following regulations allows you to tap into this lucrative opportunity legally.
Conclusion
The meteoric rise of short-term rentals is truly revolutionizing real estate investing. As property owners adapt to cater to new guest demands, the possibilities for higher returns and flexibility will continue attracting investors. We are merely witnessing the beginnings of a new era in the real estate landscape.
Those who embrace this change and upgrade their properties for short-term stays will be at the forefront of this gold rush. It is time to break free of rigid investing frameworks and evolve to maximize your rental income. The future promises exponential growth for those who can envision the immense potential of short-term rentals.
Frequently Asked Questions
How do short-term rentals differ from traditional rental properties?
Short-term rentals offer greater flexibility for owners and tenants. There is higher earning potential, but the management requirements are higher than traditional long-term rentals. Short-term tenants expect a hotel-like experience.
What are the risks associated with short-term rental investments?
Potential challenges include property damage by irresponsible tenants, fluctuations in demand and pricing, legal restrictions in some areas, and the hands-on management required. Proper precautions can help overcome these risks.
How can I ensure consistent bookings and high occupancy rates?
Strategic pricing, omnichannel marketing, and exceptional guest experiences will help drive bookings. Monitoring demand forecasts and adjusting pricing will maximize revenues.