Yellow Jasper: Meanings, Properties and Powers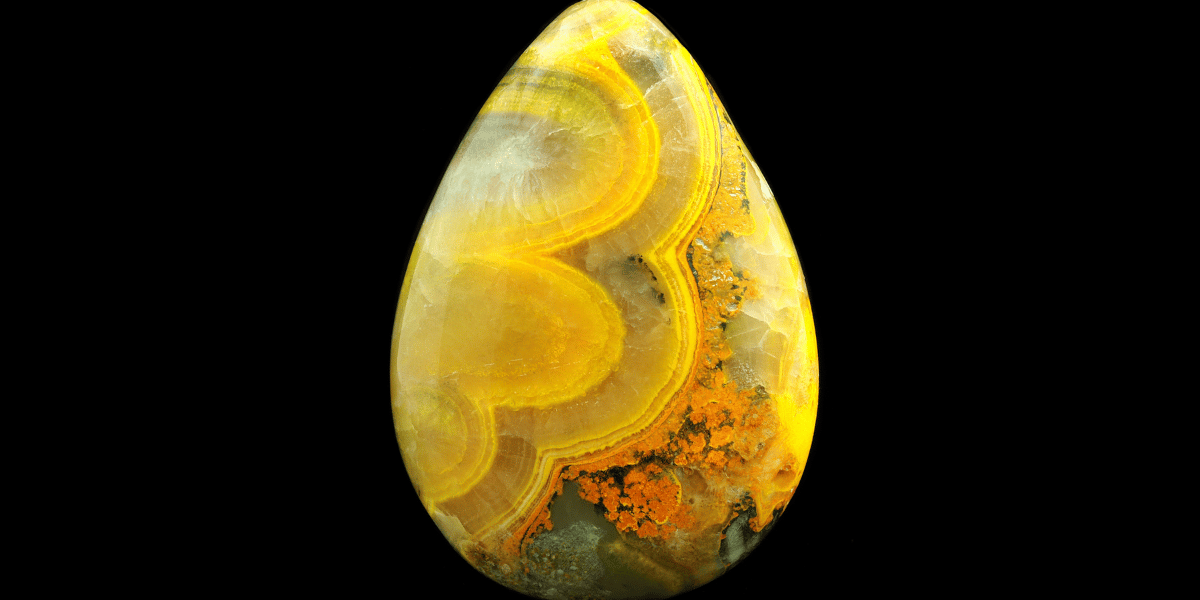 Yellow Jasper Properties
Yellow Jasper, a fusion of Chalcedony and Quartz, manifests as an impure silica variety characterized by its smooth surface and opaque transparency. Displaying an array of yellow hues, from vivid yellow to mustard brown, its distinctive tones arise from elevated iron content within the stone. The term "Jasper" finds its origin in the Old French word 'jaspre,' signifying a 'spotted stone,' alluding to the prevalent patterns seen in Jasper stones, often presenting as spots and stripes. This unique stone is sourced from locations such as Russia, India, Venezuela, Australia, Brazil, Uruguay, and the USA.
Why Would You Use Yellow Jasper?
Yellow Jasper serves as a protective force, safeguarding both the physical and spiritual realms. Whether journeying on the tangible or astral planes, this stone acts as a reliable shield.
Functioning as an exceptional guide through earthly experiences, Yellow Jasper ensures forward movement along your life path. Embraced by scholars, scientists, poets, and physicians for its intellectual properties, it fosters clear and focused thinking.
Beyond its cognitive benefits, Yellow Jasper proves highly nurturing, alleviating stress and instilling peace—particularly effective when paired with the January Birthstone. Acting as a supportive companion during challenging moments, it absorbs pain and enhances connection with nature.
This stone imparts confidence and courage, attracting positive energy and bolstering self-assurance. Ideal for forging stronger relationships, Yellow Jasper emanates grounding energies, fostering tranquility in stressful times.
Infusing a sense of completeness and unity into your life, Yellow Jasper harmonizes various aspects. It diminishes worry and self-consciousness, offering strength in the face of new challenges.
Yellow Jasper's positive influence extends to intellectual pursuits, encouraging continuous learning. Its stimulating energies motivate the completion of shelved projects and enhance self-confidence, perseverance, and tenacity.
Inviting joy and enthusiasm, Yellow Jasper attracts valuable friendships. It aids in setting boundaries with those who overstep and provides stability during overwhelming moments. This stone inspires honesty, courage, and self-discipline, instilling the belief that no challenge is insurmountable.
How Will Yellow Jasper Help You?
Yellow Jasper, Healing and Health
Yellow Jasper boasts the ability to enhance the immune system and serves as a preventive measure against various health issues. Notably, it can reduce the likelihood of epilepsy attacks, nosebleeds, and colic in infants. The stone's benefits extend to preventing fevers, swelling, and stomach pains.
In addition to addressing physical discomfort, Yellow Jasper aids in alleviating nausea and indigestion-related pains. Its effectiveness is particularly pronounced in managing chronic back pains, actively absorbing bodily aches.
The stone plays a role in detoxification, purging the body of environmental impurities and toxins. By optimizing nutrient utilization, Yellow Jasper ensures the body can effectively absorb the ingested nutrients.
Teaming up with Lemurian Seed Crystal, Yellow Jasper becomes a potent ally against allergic reactions. It also contributes to relieving bloating and supports tissue regeneration, making it beneficial for revitalizing the body after a prolonged illness.
Beyond its physical health benefits, Yellow Jasper is hailed as an excellent aid for weight loss. By improving digestive and metabolic processes, it facilitates quick and effective weight loss, making it a valuable companion in your fitness journey.
Yellow Jasper and Wealth
Embrace the empowering energies of Yellow Jasper, particularly if you are dedicated to accumulating wealth. This stone radiates vibrations of good fortune and luck, ushering in abundance and prosperity.
Yellow Jasper channels energies of focus, practicality, decisiveness, persuasiveness, and precision, enhancing your ability to navigate financial endeavors.
As a protective talisman, Yellow Jasper acts as a shield against negativity, ensuring a secure path to achieving your financial goals. During challenging times, it provides sustenance and support, guiding you until you encounter your stroke of luck.
This stone purges negative energies, leaving only positivity to envelop your financial pursuits. It sharpens your mind and aids in transforming ideas into actionable plans, contributing to your financial success.
Yellow Jasper, Love and Relationships
Yellow Jasper stands as a pillar of support, offering guidance, motivation, and encouragement as you engage with its energies. When combined with Shattuckite, it provides the strength and courage needed to overcome relationship challenges.
This stone advocates for a realistic approach to expectations within your partnership, fostering mental clarity to perceive your relationship authentically and without bias. It prompts a deeper understanding before making decisions or progressing further.
Yellow Jasper facilitates emotional introspection, helping you unravel complex feelings. Its energies prompt a pause for self-examination, offering practical solutions and guidance on the next steps. Additionally, it empowers you to discern genuine connections from superficial ones.
This stone acts as a shield against negative emotions like spite, insecurity, and jealousy, safeguarding against malicious gossip. Yellow Jasper boosts self-confidence, infusing your relationship with vitality and enthusiasm. During challenging times, it provides emotional support, imparting inner strength to navigate life's disappointments.
Combining Yellow Jasper with Beryl enhances confidence in yourself and your partner, safeguarding and promoting happiness in the relationship. While the stone's transformative effects may take time, patience is key to fostering positive change.
Yellow Jasper alleviates emotional stress, empowering you to express yourself courageously. It reinforces personal independence, fostering balance and stability within your relationship.
How to Use Yellow Jasper for the Best Results
Harnessing the vibrant fire energy, Yellow Jasper is typically positioned at the heart of your home or room. Its presence infuses the space with energy, light, and a sense of cheerfulness. To invigorate a specific room with bright and positive energies, simply position a piece of Yellow Jasper in its center.
Yellow Jasper and Spiritual Energy

Yellow Jasper's spiritual energy serves as a conduit to the sun's vibrant energy, elevating happiness, joy, and optimism in your life. This stone acts as a reminder to stay grounded and connected to the Earth, boosting self-confidence during moments of overwhelm or when stepping outside your comfort zone.
In the presence of Yellow Jasper, stress and anxiety diminish, replaced by feelings of happiness and contentment. This stone possesses the ability to clear your mind and propel you toward your goals. Carrying Yellow Jasper with you provides a spiritual boost, re-energizing your body, mind, and spirit, akin to a burst of adrenaline.
As a protective stone, Yellow Jasper shields against negativity and depression, promoting courage, strength, and vitality across all aspects of your life. Its spiritual energy focuses on the lower chakras, providing grounding and balancing effects for a realistic perspective on personal evolution.
While Yellow Jasper, like other Jasper stones, works gradually, its powerful spiritual energy nurtures and protects. It aligns with your vibration, fostering a balance of energies. Acting as a guide, Yellow Jasper supports spiritual work, navigating experiences and guiding you along your life path.
This stone channels positive energy, instilling a sense of purpose and courage to explore new paths. When faced with challenges, Yellow Jasper inspires mature problem-solving and offers clues on the best approach. Its spiritual energy serves as a guiding force in your life journey, highlighting necessary steps and cautionary reminders.
The consistent use of Yellow Jasper deepens the connection to its loving and nurturing spiritual energy, allowing you to experience its unique and resonant vibrations. Employ this stone as a defense in both the physical and spiritual realms, ensuring its presence during travels on both the physical and astral planes.
Yellow Jasper stands as an exceptional companion in all earthly experiences, ensuring forward movement on your life path with love and joy as constant companions.
My Final Thoughts on the Power of Yellow Jasper
Yellow Jasper, a nurturing and therapeutic stone, brings wisdom and courage into your life. Revered as a discerning and protective talisman, it serves as a guide on both physical and spiritual journeys.
This stone bestows mental clarity and inner strength while establishing a profound connection with the world through stabilizing energies. Yellow Jasper enhances courage, confidence, and infuses boundless enthusiasm and energy into your life and relationships.
Balancing Yin and Yang energies, realigning and boosting chakras, and stabilizing the physical body, Yellow Jasper empowers you to forge new relationships, explore hobbies, and delve into new interests. It offers a fresh perspective and illuminates your life with clarity, enthusiasm, and optimism.
Ensuring a positive start to relationships through honest and open communication, Yellow Jasper aids in expanding horizons and discovering untapped capabilities. Drawing on the energy and positivity of the sun, it proves to be a robust companion for those leading busy and stressful lives.
With Yellow Jasper by your side, you are protected, able to navigate life safely and effortlessly. For those seeking relief from anxiety, stress, or depression, and a life infused with happiness and positivity, carrying a piece of Yellow Jasper is the key.