The Benefits of Knotless Braids: Comfort, Versatility, and Style
As someone who loves to experiment with different protective hairstyles, I've become a huge fan of knotless braids. Unlike classic braids that have visible knots and defined parts, knotless braids involve gently feeding in extensions to create a seamless, continuous look. This innovative technique provides some great advantages that have made knotless braids wildly popular.
In this article, I'll share the key benefits I've discovered that make knotless braids a top choice for versatility, comfort and style. From their damage-free installation to low maintenance, read on to learn why knotless braids should be your next go-to look!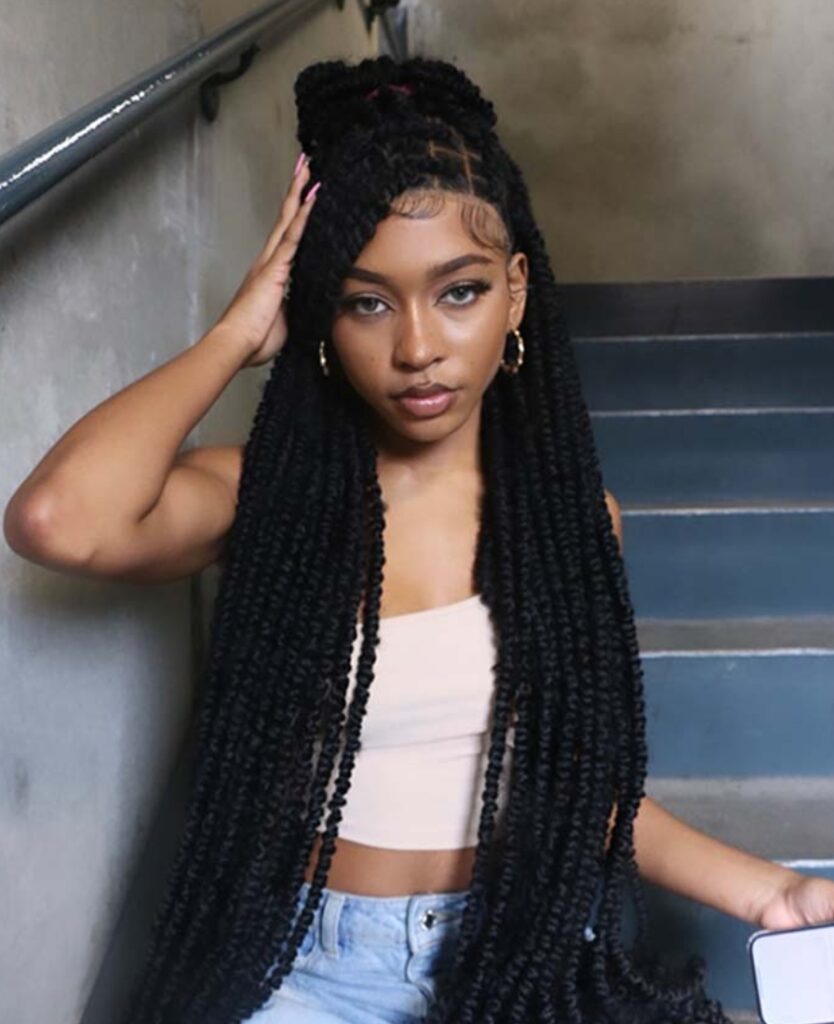 Seamless, Natural Appearance
One of my favorite things about knotless braids is how the smooth, blended look makes them appear like an extension of your natural hair. There are no knots or defined sections that disrupt the flow of the braids growing out of the scalp.
The braider uses the "feed-in" method, gradually adding in extensions by braiding them into the natural hair. This allows the braids to seamlessly blend together into one continuous strand from root to tip.
When installed properly, knotless braids should lay fluidly against the scalp and look exactly like your real hair texture. The incredibly natural appearance simply can't be duplicated by other braiding techniques.
Low-Tension Installation
As someone who has suffered breakage from braid styles in the past, I appreciate that knotless braids are designed to be gentle on hair when installed correctly. The smooth feed-in method eliminates the need to tightly anchor braids with knots that can lead to excessive tension on strands.
A skilled knotless braider will pay close attention to maintaining a secure but not overly tight grip on the braids as they work, to avoid damage. There should never be pain or discomfort during the process. The end result should feel tranquil on your strands and scalp.
This low-tension approach allows those with fragile or thinning hair to still enjoy the benefits of braids without risking further damage. When done properly, knotless braiding is gently protective.
Reduced Maintenance
One of the biggest draws of knotless braids for me is the minimal maintenance required once they are installed. Unlike classic braids, the extensions in knotless braids are incorporated in a way that prevents them from easily loosening or unraveling.
There's no need to continually retighten sections or smooth flyaway frizzes. Knotless braids maintain a tidy, finished look for weeks at a time with proper aftercare. All I have to do is gently wash and moisturize my braids occasionally. The upkeep is blissfully low.
For busy folks who don't have time for high-maintenance hairstyles, knotless braids are a dream come true. The reduced upkeep allows you to focus your energy on other things.
Protective Styling Benefits
Like all braided styles, knotless braids do a wonderful job of protecting your natural hair as it grows out. Keeping hair tucked smoothly inside braids helps prevent damage in multiple ways:
– Minimizes manipulation from daily brushing/detangling
– Provides breakage protection with no loose ends
– Seals in moisture and natural oils for softer hair
– Reduces friction and resulting split ends/frizz
– Allows hair to strengthen without direct heat styling
– Offers scalp relief during growth phases
My hair always emerges stronger from periods of protective knotless braiding. This method lets me give my strands a much-needed rest between coloring and heat styling.
Comfortable Feel
Some braiding methods can feel restrictive, tight or even painful on the scalp. But in my experience, properly installed knotless braids have a comfortable, almost weightless feel.
The gradual, low-tension feed-in process avoids putting excessive stress on hair follicles during application. And the braids' smooth uniform shape allows them to fall fluidly rather than tugging sharply in sections.
I barely notice I'm wearing knotless braids! The relief on my scalp and edges is obvious compared to styles like box braids or weaves. For long-term wear, knotless braids are perfect for a pleasant feel.
Length and Volume
While I love the look of long, lush natural hair, my strands are prone to breakage when they reach a certain length. Knotless braids allow me to safely achieve the length I want using gentle extensions.
Braiders customize the size and amount of added-in hair to reach your personal preferences. For fine or thinning hair, they can add volume and thickness in a natural-looking way. Those blessed with thick manes can get even more dramatic length and fullness.
Whatever your hair goals, knotless braids help you reach your optimum length and volume while protecting fragile strands underneath.
Diverse Styling Options
While I prefer a classic straight-back knotless braid look, there are endless styling possibilities to switch things up. You can opt for creative parts, varied braid sizes, funky shapes and more.
Add trendy elements like geometric patterns, whimsical curls or colorful ombre ends. The styling versatility of knotless braids is unparalleled. Your stylist can shape your ideal vision from edgy to elegant.
Customize your look according to personal style, face shape, event or just to change things up! Knotless braids keep you from getting bored.
Convenience Factor
As much as I adore the look of intricate braided hairstyles, I don't exactly love spending endless hours getting them done. Knotless braids offer a nice middle ground of beautiful braided hair without an all-day styling session.
The smooth technique allows talented braiders to complete knotless braids quicker than traditional techniques. While every head of hair is different, many can finish knotless braids in just a few hours compared to all-day box braid sessions.
When time is of the essence, knotless braids deliver fabulous braided hair conveniently. No need to dedicate a whole day to sit in the stylist's chair!
Confidence Boost
There's no denying that your hair has a direct impact on your confidence. When I'm rocking a head of flawless knotless braids, I always feel like my best self!
The braids are feminine and polished, allowing me to move through my days with ease. I don't have to worry about styling mishaps or bad hair days. And I can wake up knowing I already look put together.
Great hair equates to an instant confidence boost. For me, knotless braids are the key to always putting my best face forward. My braids make me feel invincible!
As you can see, knotless braids offer a myriad of advantages from styling flexibility to a damage-free install. If you're seeking a protective style that makes styling easy while celebrating your natural texture, knotless braids are a fantastic option. Work with an experienced, attentive braider to ensure the best results. Then get ready to rock these smooth, fluid braids with confidence!
The Beauty of Boho Braids
While on the topic of gorgeous braided hair, I must mention the breezy beauty of boho braids. This relaxed, beachy braided style uses faux locs woven into an intentionally undone, wavy shape that flows down the back.
To create the boho effect, stylists make faux locs with a loose braiding technique and leave the ends natural. The textured, imperfect plaits resemble ocean waves blowing in the wind.
Boho braids emit a totally carefree, bohemian vibe perfect for seaside vacations or festival season. The piecey texture adds definition and movement for an ultra-playful finish.
If you crave a braided style that embodies wanderlust whimsy, boho braids bring the magic. They're ideal for free spirits with an affection for beachy, bedhead style. Add boho braids to your braid bucket list!
The Intricacy of Criss Cross Braids
For those who enjoy more intricate, eye-catching braided styles, criss cross braids are a gorgeous option. As the name suggests, this creative technique involves braiding hair diagonally across the head in a mesmerizing crisscross pattern.
To achieve the look, braids are styled both vertically and horizontally, overlapping each other to create geometric crossover designs. This adds exciting dimension and shape.
Criss cross braids work with all types of plaits from box braids to faux locs. The sharply angled shape beautifully complements round or oval face shapes. For artistic energy and elegance, criss cross braids bring sophisticated flair.
If you're seeking a head-turning braided style that stands out from the crowd, consider incorporating criss cross braids into your next install. The immensely flattering geometric shape makes a bold fashion statement!
Parting Thoughts
Whether you opt for knotless braids, butterfly locs or criss cross braids, braided hairstyles allow you to embrace your one-of-a-kind beauty. Protective styles expand the possibilities of black hair without damage.
Remember – braids should enhance your natural vibrance, not harm it. Choose an attentive stylist who listens and handles your tresses with care. Speak up if you feel any discomfort during the process.