What's Silver Sheen Obsidian | Its Information, Uses & Properties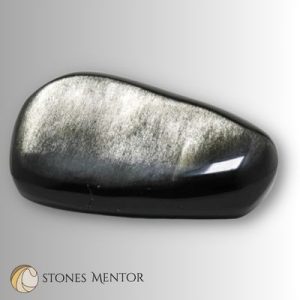 Silver Sheen Obsidian is a beautiful and mysterious gemstone that has captivated people for centuries. With its striking appearance and powerful metaphysical properties, it has become a popular choice for those seeking spiritual growth and personal transformation.
In this comprehensive guide, we will explore the meaning and properties of Silver Sheen Obsidian and discover why it continues to fascinate so many people. Read on to learn how this remarkable stone can benefit you in various aspects of your life.
What is Silver Sheen Obsidian?
Silver Sheen Obsidian, also known as Sheen Obsidian, is a unique variety of volcanic glass known as obsidian. It is characterized by its shimmering, silver-colored sheen that results from gas bubbles trapped within the glass during its formation. This distinctive appearance sets this obsidian apart from other types of obsidian and contributes to its allure and mystique.
History & Lore:
Throughout history, this magical obsidian has been revered for its beauty and mystical properties. Ancient societies such as the Aztecs and Mayans used obsidian in their religious ceremonies, and this magical obsidian was particularly prized for its connection to the spiritual realm. In various cultures, it has been associated with protection, purification, and the ability to reveal hidden truths.
The Formation of Silver Sheen Obsidian:
The formation of Silver Sheen Obsidian begins with volcanic eruptions. When lava cools rapidly, it forms obsidian, which is an amorphous glass-like substance. The gas bubbles trapped within the cooling lava create the distinctive silverish sheen found in this obsidian. The presence and distribution of these gas bubbles can vary, giving each piece of this obsidian its own unique pattern and appearance.
Pairing Silver Obsidian with Other Stones:
Silver Obsidian can be effectively combined with other stones to enhance its properties or create a synergy that supports specific intentions. Some popular stone pairings include:
Amethyst: Pairing this obsidian with Amethyst can enhance spiritual growth, intuition, and psychic protection.
Clear Quartz: Combining Silver Sheen Obsidian with Clear Quartz can amplify its energy and help to clarify intentions.
Bumblebee Jasper: Pairing your obsidian with Bumblebee Jasper can strengthen protection against negative energies and psychic attacks.
Peach Selenite: Combining this obsidian with Selenite can facilitate communication with higher realms and enhance spiritual growth.
Metaphysical Properties of Silver Sheen Obsidian:
Many people believe that this obsidian possesses powerful metaphysical properties that can aid in personal transformation and spiritual growth. Some of these properties include:
Protection: Silver Sheen Obsidian is considered an extremely protective stone, shielding the wearer from negative energy and psychic attacks.
Purification: It is believed to purify one's energy field, removing negative influences and promoting overall well-being.
Truth and clarity: This magical obsidian is said to help reveal hidden truths, providing insight and clarity to the wearer.
Grounding: As a grounding stone, This obsidian is thought to help stabilize and balance one's energy, promoting a sense of inner calm and focus.
How to Use Silver Sheen Obsidian for Personal Growth?
There are many ways to incorporate Silver Obsidian into your daily life to support personal growth and spiritual development. Some methods include:
Meditation: Meditating with This obsidian can help to deepen your connection to your inner self and facilitate spiritual growth.
Jewelry: Wearing Silver Sheen Obsidian jewelry can serve as a reminder of your intentions and provide protection and grounding throughout the day.
Crystal grids: Incorporating this obsidian into crystal grids can amplify its energy and help manifest your intentions.
Dreamwork: Placing this obsidian under your pillow can encourage lucid dreaming and provide insight into your subconscious mind.
How to Cleanse and Charge Silver Sheen Obsidian?
To maintain the effectiveness of your Silver Obsidian, it is important to cleanse and charge it regularly. Some popular methods for cleansing and charging include:
Smudging: Using sage or other cleansing herbs to smudge your Silver Sheen Obsidian can remove negative energies and restore its vibrational frequency.
Moonlight: Placing this Obsidian in the moonlight, particularly during a full moon, can recharge and energize it.
Sound healing: Using sound, such as singing bowls or tuning forks, can cleanse and charge your obsidian through the power of vibrational frequencies.
Water: Gently rinsing your Silver Sheen Obsidian in natural running water, such as a river or stream, can cleanse it of negative energies. However, be cautious, as obsidian can be sensitive to sudden temperature changes.
Caring for Your Obsidian:
Proper care is essential to maintain the beauty and effectiveness of your Silver Obsidian. Here are some tips to keep your Silver Obsidian in the best condition:
Avoid harsh chemicals: This obsidian can be sensitive to chemicals, so avoid exposing it to harsh cleaning agents or perfumes.
Clean gently: To clean your Silver Sheen Obsidian, use a soft cloth and mild soap with warm water. Gently wipe away any dirt or grime, then rinse thoroughly and pat dry.
Handle with care: Obsidian is a relatively soft stone, so handle it carefully to prevent chipping or scratching.
Store separately: Store this magical obsidian separately from other stones to avoid scratching or damaging its surface.
Silver Sheen Obsidian in Jewelry and Decor:
Silver Obsidian's unique appearance makes it a popular choice for jewelry and home decor. Its shimmering silver sheen adds a touch of elegance and sophistication to any piece. Some popular uses for Silver Obsidian in jewelry and decor include:
Pendants: A Silver Sheen Obsidian pendant can make a stunning centerpiece for a necklace, showcasing its beauty while providing its wearer with its powerful properties.
Earrings: Silver Obsidian earrings can be a subtle yet striking addition to your jewelry collection.
Rings: Wearing a Silver Sheen Obsidian ring can serve as a constant reminder of your intentions and provide grounding and protection.
Home accents: Incorporating this obsidian into your home decor, such as in the form of decorative bowls or sculptures, can bring energy and beauty into your living space.
Conclusion:
In conclusion, This obsidian is a powerful and fascinating gemstone with a rich history and deep metaphysical significance. Its unique appearance and properties make it a valuable addition to any crystal collection or spiritual practice. By incorporating this obsidian into your daily life, you can harness its protective, purifying, and grounding energies to support your personal growth and spiritual journey. Explore the world of Silver Sheen Obsidian and experience the transformative power of this remarkable stone for yourself.