Dendritic Agate: Meanings, Properties and Powers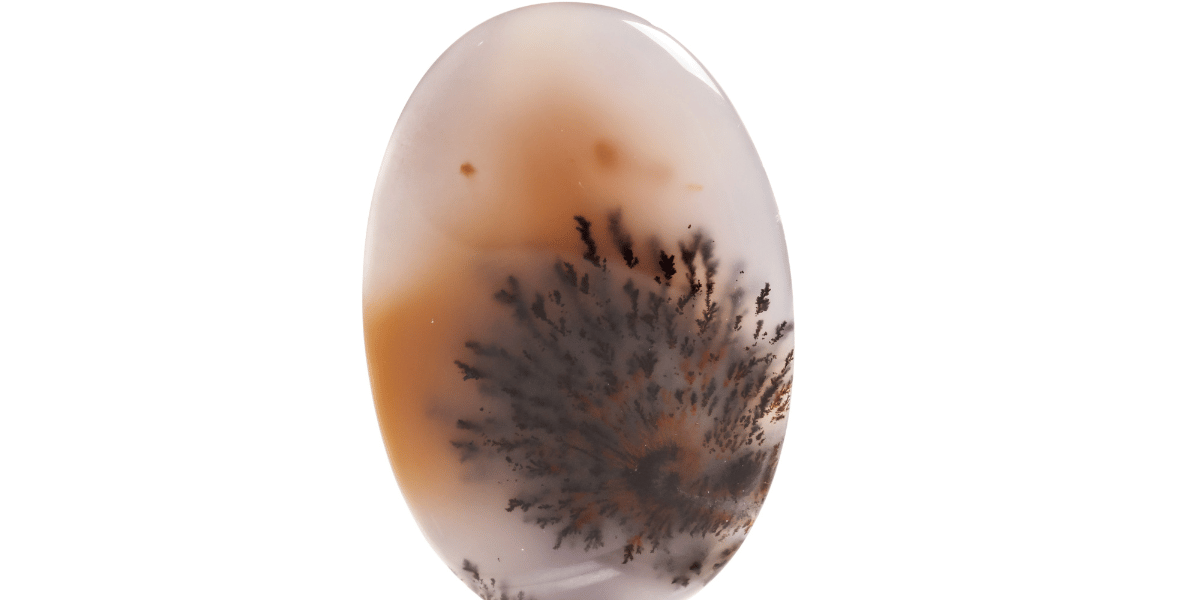 The Spiritual Meaning Of Dendritic Agate
Dendritic Agate, often referred to as Tree Agate, holds significant spiritual meaning as a protective stone that harmoniously activates all chakras.
It serves as a potent tool for dispelling negative thoughts and nurturing self-assurance. Dendritic Agate has the unique ability to amplify mental acuity, fostering clear and objective thinking about oneself and others. Its influence promotes self-acceptance while diminishing the weight of guilt.
Dendritic Agate is a valuable aid in meditation, especially when addressing complex matters that need acknowledgment by the conscious mind before they can be effectively resolved.
Properties of Dendritic Agate
Dendritic Agate, known for its distinctive branch-like dendrite inclusions, is a member of the Agate family. It exhibits a range of colors including white, whitish-gray, and clear, alongside brown or black dendrites composed of iron oxide or manganese. These dendrites form as microscopic crystals within a silicon dioxide matrix.
Dendritic Agate is sourced from various locations worldwide, including Brazil, Uruguay, and Mexico. It possesses physical characteristics such as a density of 2.64-2.69, a hardness of 6 on the Mohs scale, and a vitreous to dull luster. This stone, with a transparent to translucent opacity, crystallizes in the trigonal crystal system.
Metaphysical Properties of Dendritic Agate
Dendritic Agate shares metaphysical properties common to other agates. It aids in grounding and stabilizing one's environment, encouraging adaptability in the face of life's changes. This stone also serves as a repository of past knowledge, promoting self-healing and the development of psychic abilities.
Dendritic Agate plays a key role in enhancing concentration, memory, and the acceleration of learning processes. It proves beneficial in addressing diverse health issues, including blood-related disorders, hormone balance during menstruation, physical weakness, insomnia, nervous system disorders, and detoxification. Additionally, it fosters open-mindedness and positivity, facilitating a balanced perspective in various situations.
Spiritual healers may employ Dendritic Agate for past life regression, often placing it under a pillow to stimulate dreams of previous incarnations.
Varieties of Dendritic Agate
Dendritic Agate presents in various colors, with the most common combination being black dendrites on a white background. When tinged with blue, it is known as Watermelon Dendritic Agate, and the green variation is referred to as Tree Bark Agate.
Why Use Dendritic Agate?
Dendritic Agate serves as a catalyst for patience and perseverance, fostering inner peace and tranquility. It bolsters your connection to the Earth, reinforcing your sense of belonging in the universe. This stone encourages self-reflection, aiding in the identification and transformation of self-imposed limitations and behavior patterns that influence your life experiences.
Dendritic Agate is a potent talisman for meditation, therapy, and personal growth. It promotes maturity, emotional stability, and self-confidence while instilling a sense of security through its warm and protective energies. This stone encourages self-acceptance and empowers you to communicate your truth effectively.
It enhances mental faculties, including analytical abilities, perception, and concentration. Dendritic Agate purifies and stabilizes your aura, eliminating or transmuting negative energies on all levels. Its powerful cleansing attributes extend to the physical realm, promoting strength and stamina.
This stone rekindles your spiritual energy, fostering a renewed sense of personal power and life security. It facilitates self-discovery and helps you perceive the world and life experiences with equanimity. By resolving blockages and restoring balance, Dendritic Agate aids in understanding your emotions and needs, especially within the context of changing relationships and life transitions.
How Dendritic Agate Can Benefit You
Dendritic Agate for Healing and Health:
Dendritic Agate proves especially valuable during pregnancy, helping to mitigate the potential emotional challenges sometimes experienced after childbirth. Additionally, it encourages lactation.
This stone, along with Flame Agate, aids in healing the body and aligning the vertebrae, benefiting individuals with specific skeletal disorders. It is effective in treating neuralgia and nervous system-related conditions.
Dendritic Agate's ability to stimulate the capillaries and veins enhances the circulatory system's function. It offers support to the blood vessels and heart, fortifying the cardiac muscle and relieving back pain caused by internal tension and stress.
Placing Dendritic Agate on the abdomen or using it as an elixir stimulates the digestive system and alleviates gastritis. It also provides benefits for the eyes, stomach, intestines, and uterus, as well as offering relief from skin disorders and insect bite itchiness.
A cold Dendritic Agate applied to the forehead can help reduce fever and alleviate epilepsy symptoms. It may also assist in preventing sleepwalking.
Dendritic Agate and Wealth:
Dendritic Agate, often known as the "Stone of Plentitude," attracts abundance and fullness to all aspects of life, ensuring that hard work is rewarded.
It supports grounding and connection with the physical world, facilitating the pursuit of realistic, practical goals, preventing the adoption of others' dreams. Dendritic Agate enhances mental clarity and fosters an understanding of how past behaviors shape current life experiences.
As a transformative stone, Dendritic Agate aligns natural energies with the power of the mind, facilitating the discovery of new pathways and capabilities. It propels positive change, boosting motivation and enhancing one's outlook on life.
Dendritic Agate in Love and Relationships:
Dendritic Agate, in conjunction with Blue Lace Agate, addresses emotional disharmony that hinders giving and receiving love. It aids in overcoming emotional limitations and boundaries, releasing emotional burdens.
This stone contributes to healing the pain resulting from an unhappy childhood or the aftermath of a breakup or divorce. Dendritic Agate provides a path to overcome bitterness, negativity, and anger, fostering love and the courage to begin anew.
Using Dendritic Agate for Optimal Results
Dendritic and Tree Agate for Marital Fidelity and Family Bonds:
To promote marital fidelity and strengthen family connections, place Dendritic Agate near a photograph of a family member or a loved one with whom you have become estranged.
As a Protective Amulet While Traveling:
Dendritic Agate serves as a protective amulet during travel, particularly during air travel, guarding against accidents.
In the Workplace:
Dendritic Agate stabilizes energy levels when used as professional support. Placed in the workplace, it revitalizes stagnant, air-conditioned environments.
Dendritic Agate for Improved Mental Energy:
Dendritic Agate enhances mental clarity, intelligence, and healing, enveloping you in vibrations of stability, security, and unity.
The stone infuses determination and concentration, directing you to find your path without becoming a victim. It enhances determination, positively affecting your life perspective.
Feng Shui and Dendritic Agate:
Position Dendritic Agate in frequently used areas of your home to maintain order and promote productive activities. Carrying the stone in your wallet or purse attracts abundance and stability throughout the year.
Dendritic Agate, when placed at the entrance of your home, wards off negative energy and malevolent spirits. It effectively enhances the energy of rooms designated for meditation or study, bolstering concentration and memory.
Chakras and Dendritic Agate:
Dendritic Agate is linked to the root (1st) and crown (7th) chakras, grounding excess energy and fostering self-healing while creating a positive environment for meditation.
Crystal Combinations:
Combinations of Dendritic Agate with other crystals amplify their effects. For example, Black Onyx activates the root chakra when combined with Dendritic Agate. Combining Dendritic Agate with Black Tourmaline is excellent for absorbing or removing negative energy.
Chakra Crystal Combinations: Combining Dendritic Agate with chakra-linked crystals can amplify their effects. For example, when placed near the sacral chakra (2nd) or heart chakra (4th), it combines with Lepidolite or Amethyst to reduce stress and enhance self-confidence.
To balance excess energy in the solar plexus chakra (3rd), combine Dendritic Agate with Sunstone, Citrine, or Danburite.
For grounding and restoring freedom of choice, combine Dendritic Agate with Hematite.
Additional Crystal Combinations:
To facilitate wise decision-making and open up new opportunities, combine Dendritic Agate with Lapis Lazuli or other blue stones.
When seeking to retrieve past life memories and receive motivation in the present, combine Dendritic Agate with Lepidolite or Celestite.
Dendritic Agate, when combined with clear or pink stones, enhances its ability to reconnect with the past and motivate for the future.
Cleansing and Charging Dendritic Agate
Cleansing Dendritic Agate is a straightforward process, but it's important to avoid any harsh methods that could damage the stone. To cleanse your Dendritic Agate, consider the following methods:
Running Water: Place the stone in a stream or river, allowing the flowing water to cleanse it gently.
Saltwater: Immerse the stone in a bowl of saltwater. Ensure you rinse it thoroughly afterward.
Sunlight and Moonlight: Leave the stone under the sun or moonlight for natural cleansing.
Burying in Sand: Bury the stone in a pot filled with sand to allow the energy to flow throughout it.
When charging your Dendritic Agate, hold it in your hands and visualize positive energies filling it with every breath you take. You can also place it on top of an Amethyst point, a Black Tourmaline cluster, or a piece of Citrine to enhance its cleansing and charging properties.
Programming Dendritic Agate
When programming your Dendritic Agate, articulate your intention clearly and place full faith in it. The stone will amplify your desires and help manifest them if you genuinely believe in their achievability.
For instance, before bedtime, declare: "I am healthy; I allow myself to rest and get enough sleep." Another effective programming method involves placing Dendritic Agate on your solar plexus chakra (3rd) while repeating: "I am successful; I am empowered."
Cleaning and Maintenance
Dendritic Agate is relatively easy to clean and maintain. Avoid using soap, but opt for a mild dish detergent mixed with warm water instead. After washing, rinse the stone under lukewarm running water until all soap bubbles are gone. Dry it with a soft cloth or allow it to air dry. If needed, a toothbrush with soap and water can be used for cleaning, ensuring the stone is entirely dry when finished, but avoid excessive rubbing or high-temperature tumble drying.
Additionally, it's advisable to avoid direct contact between Dendritic Agate and other stones, such as Topaz, Sapphire, or Ruby.
Dendritic Agate Crystal Grids
Dendritic Agate grids serve to clear the mind and offer strength when facing challenges. To create a grid:
Begin by obtaining Dendritic Agate with a pattern of concentric circles, similar to a pine cone surface. If not available, a gray Dendritic Agate will suffice to help organize tasks and goals into distinct categories.
Place the chosen Dendritic Agate in the center of your grid.
Set up four yellow candles to represent the sun and blue candles for the moon. Position them at the points of a Golden Rectangle (proportions 1:1.618) or place them at each corner of your working area.
Start by setting a clear intention while focusing on your breathing.
Visualize your desired outcomes as if they are already real, repeating your affirmation at least three times.
Astrology and Dendritic Agate
Dendritic Agate is associated with the zodiac signs Sagittarius, Gemini, Libra, or Aquarius. It is considered a talisman that was historically used by priests and druids to attract good luck in love, money, and other aspects of life.
Dendritic Agate as a Birthstone
Dendritic Agate is not a traditional birthstone but can serve as an amulet for those born under the Gemini sign.
Legends and History
Dendritic Agate has a long history of being seen as a symbol of good luck and protection. It was believed to bring safety and prosperity and was commonly given as a wedding gift.
In the Middle Ages, Dendritic Agate was thought to protect women from miscarriage, infections, and malevolent spells. In Russia, it was used as a talisman for travelers and pirates, while in the Far East, it was associated with hope, fertility, and good luck.
Dendritic Agate's Cost
Rough Dendritic Agate is available in metaphysical stores and can also be purchased online. Prices vary depending on the size and quality of the specimen. Generally, an 8-inch polished slice or a 7×2 inch tumbled stone can be acquired for a reasonable price. Prices for polished Dendritic Agate with veining start at around $10 for a 3-inch piece and may go up to $30 for a 9-inch specimen. Natural Dendritic Agate over 1 pound can be found for under $20 online, and smaller polished stones are often priced under $10.
Identifying Genuine Dendritic Agate
Dendritic Agate is not a highly expensive stone, and distinguishing genuine specimens from fakes is generally straightforward. When purchasing online, be cautious of specimens with unusually bright colors and non-organic patterns, which may indicate fakes.
If you have access to a metaphysical store, consult an associate to examine the Dendritic Agate with you. Dyed stones are often significantly darker in color. When buying on platforms like eBay, consider seller reviews and verify their reputation regarding authenticity.
Genuine Dendritic Agate is typically translucent and may exhibit opaque colors. It generally has a waxy appearance, but skilled cutters can polish it to achieve a high luster. The dendritic markings in the stone, resembling natural landscapes or roadways, are a distinct and sought-after feature. These inclusions, although organic in appearance, are actually inorganic traces of iron and manganese. Careful gem cutting can make these inclusions appear layered or uneven.
Dendritic Agate encourages personal growth, aligns chakras, and promotes a peaceful state. It empowers you to overcome self-imposed limitations, provides clarity, and aligns your energies for personal growth and success. Its nurturing energies foster abundance and love while providing courage to start anew and heal from trauma. Dendritic Agate is associated with the crown chakra, promoting clarity and balance. When your energies are in harmony, you gain a strong sense of your place in the world, making you resilient in the face of life's challenges.
By relying on Dendritic Agate, you can achieve a deeper connection to the earth and nature, creating a peaceful and serene environment. This stone's gradual effect is particularly valuable during times of confusion and instability, providing essential support.
My Final Thoughts on the Power of Dendritic Agate
Dendritic Agate facilitates an awakening of your consciousness, connecting it to the profound unity of existence. It encourages deep introspection and growth through contemplation, fostering stability in your life.
This stone promotes an embrace of your origins and their intrinsic connection to the natural order of the universe, leading to a sense of tranquility both within yourself and in your surroundings.
Dendritic Agate embodies qualities of innocence, purity, cleanliness, and the essence of unity. It serves as a guide, unveiling hidden knowledge that you didn't even know existed. This gem symbolizes self-reflection and the journey to unlock your inner awareness, cultivating an appreciation for life's mysteries and ambiguities.
It supports your quest for moments of serene reflection and meditation, helping you discover your true purpose. Dendritic Agate serves as a potent conduit for the Earth's energies of creation, development, and renewal, infusing you with the constant rejuvenation found in nature.
This stone acts as a robust pillar of support, enhancing familial and romantic relationships while nurturing burgeoning connections. It strengthens new ventures and provides a catalyst for spiritual growth, reigniting your dedication to a higher purpose.