Calligraphy Stone: Meanings, Properties and Powers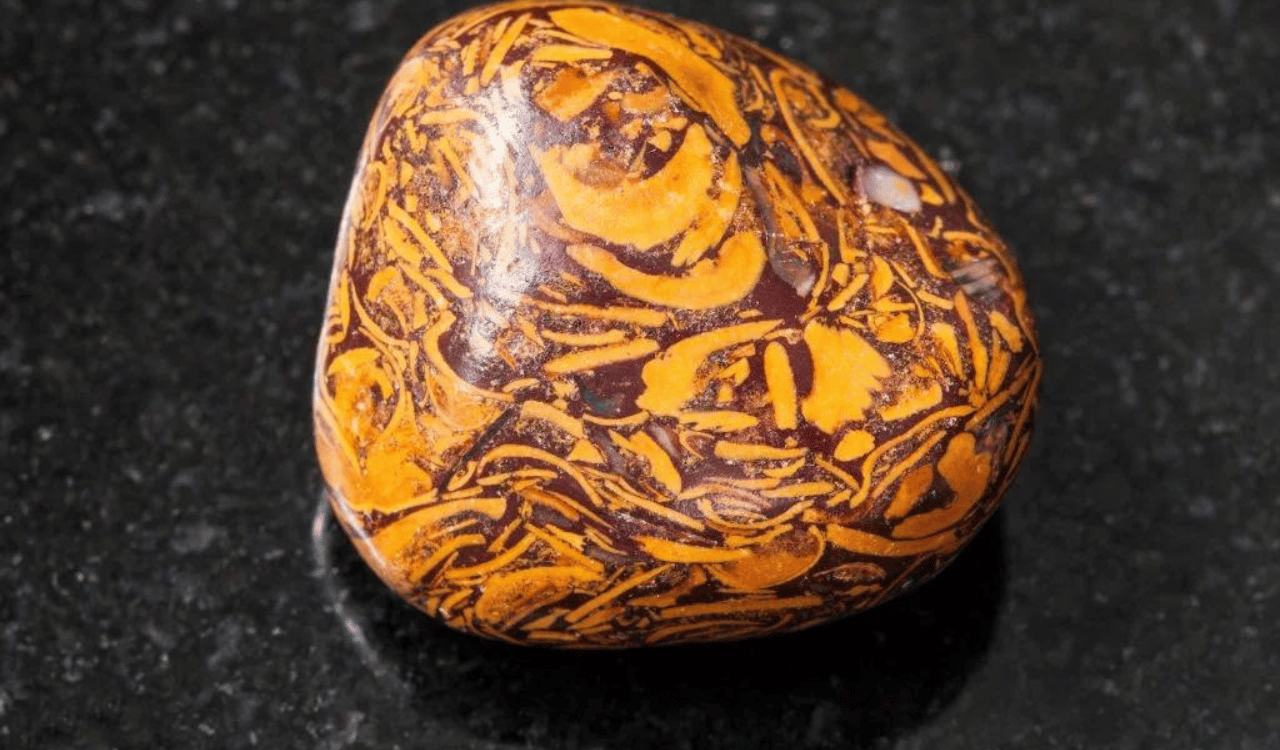 Calligraphy Stone, famed for its elaborate calligraphy-style patterns, holds a significant place as a sought-after healing stone.
This stone embodies themes of spiritual awakening, the realization of dreams, creative inspiration, joy, and inner peace.
Known to resonate with the third eye, sacral, and solar plexus chakras, Calligraphy Stone carries a deep connection with these energy centers.

Properties of Calligraphy Stone
Calligraphy Stone often appears triangular and showcases hues of golden-yellow with streaks of green, red, or brown. Abundant reserves of this stone are found in India, notably on the Himalayan Mountains.
Why Would You Use Calligraphy Stone?
Calligraphy Stone is a beacon of hope during depressive times, infusing life with immense joy and positivity. It bolsters resilience in stressful situations and aids in balancing life's demands efficiently.
This stone serves as a catalyst for moving past trauma, fostering composure and peace. Calligraphy Stone stimulates self-discipline and nurtures courage, banishing negativity to cultivate a positive mindset.
Ideal for creative individuals, this stone enhances inspiration and creativity, countering writer's block and aiding in comprehending complex situations. It fosters focus, tolerance, and empowerment during long pursuits.
Calligraphy Stone holds mysterious properties, manifesting heartfelt desires and aiding in dream visualization. It heightens sexual energy, aids past life regression, and facilitates learning from past life experiences.
This stone empowers self-realization, intuition, and mental clarity, filtering out unnecessary thoughts. It instills empowerment, determination, and confidence in pursuing goals, fostering emotional balance and compassion.
Known to activate inner strength and courage, it soothes anxiety, promoting calmness and relaxation. Additionally, Calligraphy Stone contributes to chakra cleansing and enhancement.
How Will Calligraphy Stone Help You?
Calligraphy Stone is renowned for its diverse healing abilities, making it a preferred choice for addressing physical ailments.
For individuals experiencing intense menstrual cramps, proximity to Calligraphy Stone during menstruation can offer relief from discomfort.
Those grappling with high blood pressure can benefit from its blood flow regulation properties. It aids in treating bone marrow issues and supports tissue repair post-major injuries.
The stone's healing potential extends to digestive problems and detoxification, purging the body of harmful toxins. Additionally, it aids mobility, restores limb movement, and promotes skin health, addressing scalp issues and improving blood circulation.
Calligraphy Stone proves effective against blood-related concerns like anemia and possesses anti-inflammatory properties for reducing bodily swelling.
It serves as a valuable companion during significant business dealings or travels, aiding in decision-making and future planning. In negotiations, including salary discussions, its presence can be advantageous.
This stone's creativity infusion encourages unique and inspiring work in professional endeavors, potentially setting individuals apart from colleagues.
Its manifestation qualities can attract wealth, and its heightened intuition aids in making profitable decisions. Calligraphy Stone fosters mental clarity and determination, nurturing sharper business acumen and resilience in challenging situations.
Calligraphy Stone and Spiritual Healing
Meditating with Calligraphy Stone can facilitate communication with spirit guides or angels in higher realms, offering guidance and crucial messages.
Its capacity to establish connections with higher or angelic realms makes it a favored aid for astral travel, syncing consciousness to elevated energetic frequencies.
For those exploring multidimensional journeys, Calligraphy Stone serves as a key to accessing alternate versions of oneself in different dimensions. Its grounding energy proves invaluable in spiritual journeys, ensuring a rooted presence in the present.
Additionally, this stone stimulates and amplifies psychic abilities, fostering their development. During astral voyages, it provides spiritual protection against malevolent forces.
Calligraphy Stone is instrumental in fostering connections with departed loved ones, aiding in soul integration processes. It serves as a conduit for unveiling latent powers and talents, offering insights into one's core nature.
Calligraphy Stone, Love and Romance

Calligraphy Stone holds transformative powers that can rejuvenate a fading relationship, infusing it with vitality and renewal.
Its inherent ability to usher in bliss and joy serves to dispel pain and negativity within relationships, replacing them with profound happiness.
For relationships that lack vibrancy, the creative energies of Calligraphy Stone can introduce spontaneity and novelty.
The compassion cultivated by this stone fosters thoughtfulness and empathy toward your partner, nurturing a deeper connection.
Furthermore, it has the potential to enhance one's sexual energy, facilitating exploration of desires and fantasies.
Calligraphy Stone is believed to promote unconditional love and trust, aiding in relationship harmony.
Its capacity to untangle complex situations can be invaluable in resolving significant relationship issues.
By instilling confidence and boldness, this stone can help you attract potential partners while strengthening existing bonds.
Embrace the power of Calligraphy Stone to breathe love, romance, intimacy, and joy into the relationships that matter most to you.
How to Use Calligraphy Stone for the Best Results

The key to harnessing the power of Calligraphy Stone lies in understanding its nuances, making it advisable to acquaint yourself with its properties before utilizing it.
One approach to utilizing this stone involves integrating it into meditation, inviting a profound sense of tranquility and relaxation.
Crafting ornate jewelry with Calligraphy Stone ensures its continual presence within your auric field, enhancing its influence.
For manifestation purposes, clear your mind and vividly visualize your aspirations when using Calligraphy Stone to amplify your intentions.
Consistent and frequent usage is crucial to fully immerse yourself in the benefits and energies of this stone.
My Final Thoughts

Calligraphy Stone stands out as a sought-after stone known for its comprehensive healing properties, beneficial for both spiritual and physical well-being.
This stone's influence extends to fostering love and enhancing relationships, spanning familial, platonic, and romantic connections.
Renowned for its diverse healing capabilities, Calligraphy Stone aids in alleviating inflammation, menstrual discomfort, scalp and skin ailments, detoxification, bone marrow issues, blood circulation, and mobility.
Its spiritual essence makes it a prominent tool for stimulating psychic abilities, invoking visions, safeguarding spiritual journeys, and materializing dreams. Moreover, it holds the potential to attract prosperity and affluence through consistent use.
Utilizing Calligraphy Stone may also prompt positive personality shifts, fostering traits such as courage, compassion, determination, optimism, and confidence.
Embrace this stone to cultivate a more serene, stress-free, and purposeful existence. Notably, it's hailed for its ability to combat writer's block, acting as a wellspring of creative inspiration.
Deepening your understanding of Calligraphy Stone's capabilities unlocks its latent potential, empowering you to transform your life with its hidden strengths.