What's Blue Rose Quartz | Everything You Need To Know About It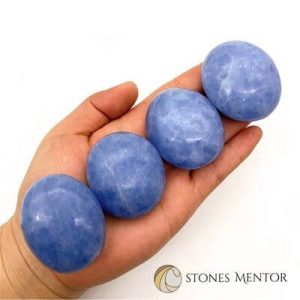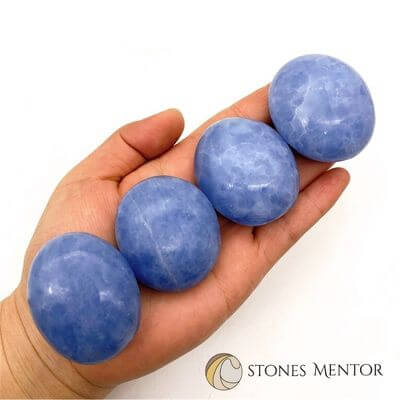 Blue Rose Quartz is a unique and captivating gemstone that has captivated hearts and minds for centuries. Its alluring blue hue and intricate rose patterns have made it a popular choice for jewelry, healing crystals, and decorative pieces.
In this comprehensive guide, we will delve into the origin, meaning, and properties of Blue Rose Quartz, along with its numerous benefits and ways to incorporate it into your daily life. You'll also learn how to care for your precious gemstone to ensure it retains its charm and potency for years to come.
The Meaning & Properties of Blue Rose Quartz:
Blue Rose Quartz is known as the stone of emotional healing and inner peace. This is because it combines the nurturing energies of rose quartz with the calming vibrations of blue minerals, such as dumortierite. This powerful blend of energies is believed to promote love, compassion, and harmony, making This Quartz an essential gemstone for those seeking emotional balance and spiritual growth.
The Origin and Formation of Blue Rose Quartz:
Blue Rose Quartz is a rare type of popular gemstone, primarily found in Brazil and Madagascar. Its stunning blue color and rose-like patterns are the result of microscopic inclusions of blue minerals, such as dumortierite, within the quartz crystal lattice. These inclusions uniquely interact with light, giving Blue Rose Quartz its characteristic appearance.
The formation of Blue Rose Quartz typically occurs within pegmatite rock deposits, where high-pressure and temperature conditions allow for the growth of large quartz crystals. Over time, the mineral-rich environment and slow cooling process led to the development of the mesmerizing patterns and hues found in This Quartz.
The Benefits of Blue Rose Quartz:
The Benefits of this Magical Quartz are as follows:
Emotional Healing:
Blue Rose Quartz is revered for its ability to heal emotional wounds and encourage self-love. Its gentle energies can help soothe anxiety, alleviate depression, and promote forgiveness, allowing you to release negative emotions and embrace inner peace.
Physical Benefits:
In addition to its emotional healing properties, This Quartz is said to support physical well-being. For example, it is believed to aid in soothing skin irritations, improving blood circulation, and promoting overall vitality.
Spiritual Growth:
This Rose Quartz is a powerful tool for spiritual growth, as it enhances intuition, communication, and spiritual awareness. In addition, its calming energies help to balance the throat chakra, encouraging clear and honest expression of feelings and ideas. Furthermore, when combined with lavender fluorite, it gives the user confidence and strength to overcome all hurdles.
Chemical Properties Of Blue Rose Quartz: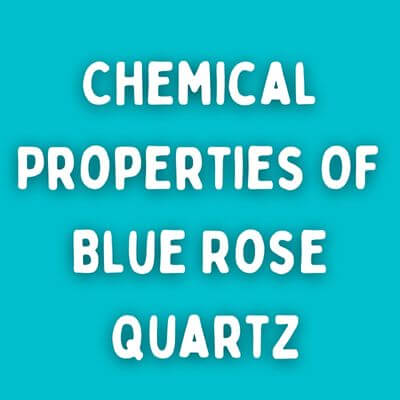 Blue Rose Quartz is a unique variety of stone, which is a silicon dioxide (SiO2) crystal. The quartz family is one of the most abundant and diverse mineral groups on Earth, encompassing various forms, colors, and inclusions.
The blue coloration in This Quartz is primarily due to the presence of microscopic inclusions of blue minerals, such as dumortierite. Dumortierite is a complex borosilicate mineral with the chemical formula (Al, Fe)7O3(BO3)(SiO4)3, which can impart a blue hue when present within the quartz crystal lattice.
Physical Properties:
Blue Rose Quartz shares many physical properties with other varieties of quartz. Some of the key physical properties of This Quartz include the following:
Hardness: Quartz is a relatively hard mineral, with a Mohs hardness of 7. This makes This Rose Quartz resistant to scratches and suitable for use in jewelry and decorative pieces. However, it is still essential to handle the stone with care to prevent any damage.
Luster: This Rose Quartz exhibits a vitreous luster, meaning it has a glass-like appearance. This luster can range from transparent to translucent, depending on the concentration of inclusions and other impurities within the crystal.
Cleavage and Fracture: Quartz has no cleavage, which means it does not break along distinct planes. Instead, it exhibits a conchoidal fracture, characterized by curved, shell-like surfaces when it is broken.
Density: The density of quartz is approximately 2.65 g/cm³. The presence of inclusions, such as dumortierite, can slightly affect the density of This Rose Quartz.
Crystal System: Quartz, including Blue Rose Quartz, belongs to the trigonal crystal system. Its crystals typically form hexagonal prisms with pyramidal terminations.
Color: The unique blue color of This Quartz is primarily due to the presence of microscopic dumortierite inclusions within the crystal lattice. The intensity of the blue hue can vary depending on the concentration and distribution of these inclusions.
Understanding the chemical and physical properties of This Rose Quartz can provide valuable insight into the stone's durability, appearance, and overall quality. This information can help you make informed decisions when selecting Blue Rose Quartz pieces for your collection or when caring for your gemstone to ensure its longevity and beauty.
How to Use Blue Rose Quartz for Maximum Effect?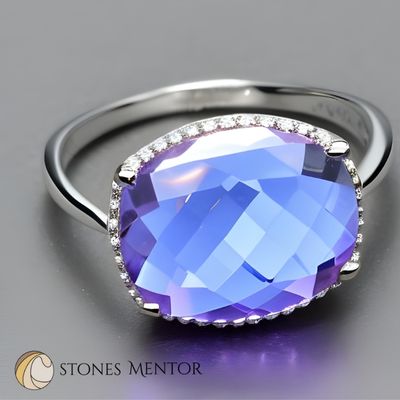 To harness the full potential of Blue Rose Quartz, consider incorporating it into your meditation practice, placing it in your home or workspace, or wearing it as jewelry. When meditating, hold the stone in your hand or place it on your heart chakra to enhance emotional healing and connection. Alternatively, position This Rose Quartz near your bed or workspace to create a calming and harmonious atmosphere.
Caring for Your Blue Rose Quartz:
To maintain the beauty and potency of your Blue Rose Quartz, it is essential to care for it properly. Cleanse the stone regularly with mild soapy water and a soft cloth, then rinse it thoroughly to remove any residue. Avoid exposing This Quartz to harsh chemicals or prolonged periods of direct sunlight, as this can damage its color and clarity. To recharge the stone's energies, place it under the light of the moon or in a bowl of natural spring water overnight.
When storing This Rose Quartz, keep it separate from other gemstones to prevent scratches or damage. You may also wish to wrap it in a soft cloth or place it in a padded jewelry box for added protection.
Conclusion:
Blue Rose Quartz is a truly captivating gemstone that offers a unique blend of emotional healing, physical benefits, and spiritual growth. Its remarkable blue hue and rose-like patterns make it a standout choice for those finding a meaningful addition to their crystal collection. By understanding the origin, properties, and benefits of This Rose Quartz, you can harness its energies to promote self-love, emotional balance, and inner peace in your daily life. Proper care and maintenance will ensure your Blue Rose Quartz remains a cherished and powerful companion for years to come.