Bloodstone: Meaning, Properties and Powers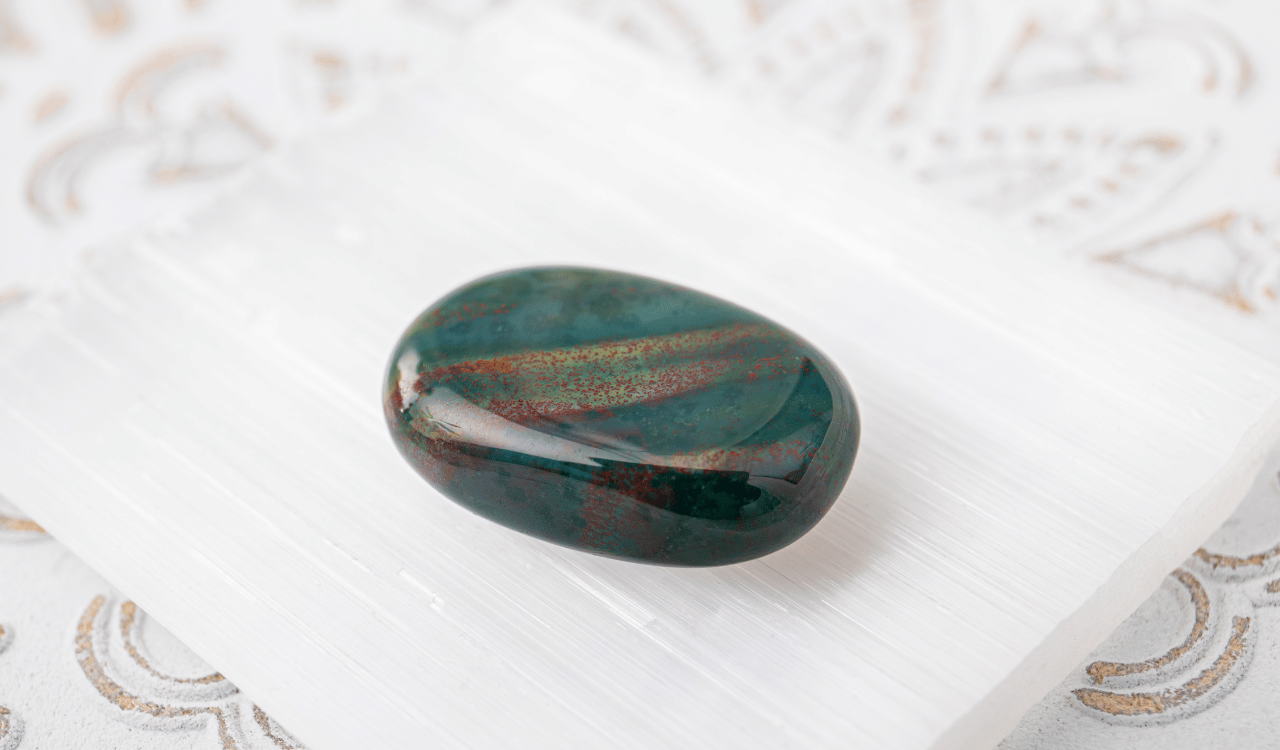 Spiritual Meaning Of Bloodstone
Bloodstone, a crystal rich in significance, draws connections to the hues of the setting sun and echoes of history's holy martyrs' blood.
Universally acknowledged for its mystical aura, Bloodstone has been revered for its reputed ability to alter the appearance of its wearer.
Known as Heliotrope to the Greeks, translating to "the turning of the sun," this crystal was believed to transform the sun's reflection into a blood-red sphere when submerged in water or exposed to sunset rays.
This unique quality held great importance for ancient civilizations, especially for magicians and intellectuals, who explored its properties. Recognizing its impact on blood-related issues, from staunching bleeding to halting nosebleeds, further added to its mystique.
The lore surrounding Bloodstone extends to supernatural capabilities, including future predictions and even invisibility.
Ancient texts, such as 'The Leyden Papyrus,' attribute immense power to Bloodstone, stating it grants desires, quells the fury of rulers, and bestows credibility upon the wearer's words.
Today, Bloodstone's appearance—red spots atop a verdant core—symbolizes spiritual metamorphosis. Meditating or placing it on your body aids in personal transformation, be it in relationships, career shifts, or skill acquisition.
At a deeper level, it facilitates a reconfiguration of personal archetypes, ushering individuals into new roles or identities.
Associated with March and the onset of Spring, Bloodstone embodies the essence of new beginnings and life's rejuvenation.
Known as the Martyr's Stone, it signifies the sacrifices inherent in significant life changes, echoing spiritual rebirth and growth.
Throughout history, it has been linked to the sun's energy, akin to Prasiolite, and was revered for its lifelike appearance due to its blood-red coloration.
Christian lore mythologized Bloodstone's origin, tying it to Christ's crucifixion, imbuing it with symbolism representing sacrifice and piety.
Even today, alongside Angelite, Bloodstone remains a potent emblem of sacrifice, offering solace during challenging periods and serving as a reminder of inner transformation.
Gazing upon Bloodstone during pivotal life moments signifies the transition from the old self to the new, embracing the opportunities heralded by the universe.
Properties of Bloodstone
Bloodstone, or heliotrope, belongs to the Jasper family, displaying a deep green hue speckled or veined with red, evoking the image of blood upon verdant terrain, hence its evocative name.
The crimson spots within Bloodstone owe their presence to Hematite, an iron oxide responsible for the vibrant red hue, akin to rust and reminiscent of the red tones found on locations like Prince Edward Island, Georgia, and the Martian surface.
This unique stone is primarily sourced from India, although deposits can also be found in Central Europe, the Middle East, Australia, and notably, the Isle of Rum in Scotland.
The distinctive coloration of Bloodstone arises from the infusion of other minerals within its matrix, ensuring each piece possesses a one-of-a-kind pattern. Some specimens even boast an array of hues, showcasing a vibrant and diverse palette.
Using Bloodstone
Why Would You Use Bloodstone
In contemporary perception, Bloodstone's association with the Crucifixion underscores its primary association with sacrifice.
It frequently serves as a poignant reminder of the adage "life is pain." Instead of allowing challenges to overpower us, it encourages embracing them as integral to personal growth and resilience.
Wearing Bloodstone provides solace during profound hardships, like the loss of a loved one. The stone has the capacity to absorb some of the emotional burden of such situations, creating a subtle separation between the individual and their pain, offering a sense of alleviation while maintaining awareness of the ordeal.
How To Best Use Bloodstone
Bloodstone jewelry should offer a palpable presence, such as a substantial pendant or necklace, bracelets with movement or weight, or earrings gently tugging on the ears.
Physical pressure is known to alleviate anxiety, as seen in the calming effects of massages or swaddling infants tightly. This sensation—of weight or pressure—should persist when using Bloodstone to alleviate anxiety or soothe turbulent emotions.
Wearing Bloodstone accessories serves as a shield against external and internal adversaries, empowering you to confront challenges with resilience.
Any form of Bloodstone jewelry, be it a necklace or ring, exerts a similar influence on your mood and aura.
For a child facing bullying at school, embedding a small piece of Bloodstone into their coat can serve as a protective amulet, granting the strength to confront the bully or seek intervention from authorities.
In divination, Bloodstone proves invaluable, especially in predicting natural phenomena, though its relevance may differ for modern urban dwellers compared to ancient people reliant on nature.
Naturally associated with blood and circulatory systems, Bloodstone holds potential for physical healing. Immersing it in cold water overnight and drinking the infused water in the morning might alleviate symptoms and improve blood flow. However, this remedy is not a substitute for medical attention. Consult a healthcare professional for concerns regarding your circulatory system or health in general.
Bloodstone for Protection
Bloodstone stands as a powerful guardian, especially in times of threat, whether it's physical violence, coercion, or dealing with negative forces in the workplace. It erects a psychic barrier, shielding you from impending harm.
This stone grants you the discernment to navigate between confrontation and retreat in the face of danger. It bolsters your resolve and fortitude, irrespective of the path you choose.
A crucial note: when facing threats or attacks, seeking legal advice or involving law enforcement is imperative for your safety. While Bloodstone offers protection, legal recourse is crucial for resolution.
Associated with the root chakra, Bloodstone grounds you in the physical realm, alleviating feelings of depression and anxiety. It anchors your focus on the present and the necessary steps toward problem-solving.
Encouraging decisive action, it instills the courage and inner strength needed to overcome apathy, lethargy, or feelings of being trapped.
A stalwart pillar of emotional support, integrating Bloodstone during challenging or emotionally taxing periods proves immensely beneficial. Its ability to soothe emotional turmoil should not be underestimated.
The Powers Of Bloodstone
Bloodstone emerges as a potent ally during emotional struggles, standing out among stones that excel in supporting individuals when life feels particularly challenging.
When it seems like setbacks are relentless, Bloodstone empowers you to rise resiliently, fostering a positive and constructive outlook.
It serves as a beacon, reminding you of the virtues of courage and wisdom, guiding you to embody better qualities during trying times.
In instances where your good deeds seem futile against a harsh world, Bloodstone serves as a catalyst, inspiring continued positive contributions despite adversities.
For Christians, Bloodstone embodies a poignant symbol of Christ's sacrifice, encouraging mindfulness of His teachings to foster personal growth, irrespective of faith.
Regardless of religious beliefs, Bloodstone's inherent traits of sacrifice, endurance, and selflessness resonate universally, transcending cultural boundaries throughout history.
This gemstone becomes a refuge when you feel burdened beyond comprehension, offering solace and empowering you to articulate your struggles to others.
It's a supportive companion amid confusion and emotional overwhelm, especially when juggling others' emotional needs. By preventing emotional overextension, Bloodstone prompts mindful self-care, emphasizing the significance of recognizing and addressing one's own emotional well-being.
Beyond surface-level self-care, it urges introspection and problem-solving, advocating against overwhelming oneself with endless responsibilities.
The energy of Bloodstone fuels personal growth, nurturing resilience and courage to confront life's challenges head-on.
The Best Crystals And Stones To Combine With Bloodstone
Bloodstone aligns harmoniously with potent stones known for dispelling negativity and infusing life with joy, creating a synergistic effect far more impactful than using it in isolation. Sole use of Bloodstone may occasionally evoke a sense of martyrdom.
While Bloodstone provides strength in confronting challenges, relying solely on it might heighten sensitivity to negativity, potentially fostering feelings of bitterness.
Pairing Bloodstone with stones adept at dispelling negativity, like Shungite, enhances the effectiveness of eliminating toxic influences, moving beyond merely coping with them.
Equally crucial is introducing stones that promote positivity and joy, such as diamond, Chrysoprase, or Turquoise. These elements actively cultivate a positive life outlook, preventing feelings of emptiness that might linger even after removing negativity.
Integrating gems that evoke joie de vivre fills the void, igniting a renewed zest for life and empowering the manifestation of positive energy.
Bloodstone finds a complementary partner in the highly cerebral Amethyst. Rooted in the visceral energy of the root chakra, Bloodstone complements Amethyst's intellectual prowess associated with the crown chakra, offering a holistic approach to energy concerns.
Augmenting Bloodstone's energy, Quartz crystal acts as an amplifier, intensifying its inherent power. Combining Bloodstone with a clear quartz point delivers a robust surge of energy, ideal for addressing immediate and profound challenges.
Smoky and Rose Quartz offer similar benefits, each emphasizing dispelling negativity or enhancing positivity, respectively. Selection depends on the specific nature of the issue at hand, or a combination of these stones might suit multifaceted challenges. In moments of deep turmoil, a combination of these crystals maximizes their collective power.
Beautiful Images Of Bloodstone
Bloodstone earns its mystical reputation due to its multifaceted abilities to transmute negativity, cleanse surroundings, and offer protection, making it an invaluable addition to both crystal and Feng Shui collections.
Its prowess extends to curing, energizing, and grounding energies within your home, amplifying courage and compassion in those who embrace it.
Renowned as a warrior stone, Bloodstone uplifts the heart while fortifying courage, attracting athletes seeking physical vitality and mental readiness for their endeavors.
In moments when daunting challenges loom, Bloodstone serves as a beacon of strength, provided the weight of the world doesn't burden you.
Recognized as a talisman for prosperity and health manifestation, Bloodstone fosters knowledge, vitality, and organizational skills, doubling as an aphrodisiac and a healing aid that detoxifies and enhances various bodily functions.
Beyond physical benefits, Bloodstone revitalizes relationships, bolsters mental fortitude, and aids in heartfelt decision-making, promoting overall well-being when worn regularly.
Placed strategically, Bloodstone induces restful sleep, bolsters endurance, and aligns chakras while functioning as an immune booster.
Its placement over the thymus stimulates immunity, while its influence on the root and heart chakras strengthens vitality and emotional balance.
In Gaia healing, Bloodstone restores disrupted Earth energies, known historically for its mystical attributes, influencing weather and dispelling negativity.
An ancient oracle, Bloodstone enhances intuition, shielding against unwanted influences, instilling courage to confront life's challenges, and reshaping one's perspective on upheavals as opportunities for transformation.
Throughout history, Bloodstone served as a divination tool, empowering personal strength and occasionally believed to render invisibility.
In essence, Bloodstone holds a rich tapestry of mystical properties, offering protection, courage, and transformative energy while resonating with ancient wisdom and mystical heritage.
My Final Thoughts On The Power Of Bloodstone
Whether recognized as the compelling Bloodstone or the more neutral yet equally inspiring Heliotrope stone, there's no denying the immense potential and power this crystal holds.
Bloodstone's remarkable energies inspire strength, making it an invaluable addition to any crystal enthusiast's collection. Beyond promises of improved circulation and a strengthened immune system, this influential stone serves as a beacon for those enduring difficulties, reassuring them that their efforts will be rewarded.
Bloodstone distinguishes itself by not merely elevating life from an average baseline but lifting it from challenging circumstances. It stands out as one of the most efficient stones for addressing serious, immediate problems and dangers, although its potency may pose challenges, such as the potential martyrdom complex described earlier.
Working with Bloodstone requires careful consideration and research to harness its power effectively. Spending time getting acquainted with the stone and exploring combinations tailored to specific concerns can help mitigate potential issues.
If you have challenges that could benefit from Bloodstone's assistance, like and share this post to spread the word about the exceptional efficiency of this stone!