20 Best Stones for Anxiety & Stress That You Must Use Now!
Feeling anxious or stressed? Let Mother Nature lend you a helping hand. There are numerous natural stones and crystals known for their calming and stress-relieving properties. In this article, we'll guide you through the top 20 best stones for anxiety and stress, helping you discover the perfect stone to bring peace and balance into your life.
1. Rose Quartz:
The soft pink Rose Quartz, known as the 'Love Stone,' has a gentle, nurturing energy that promotes love, compassion, and forgiveness. It aids in releasing fear and anxiety and fosters a sense of peace and emotional healing.
2. Lepidolite:
Lepidolite, a beautiful lilac-colored stone, contains naturally occurring lithium. It has calming properties that help in relieving stress, stabilizing mood swings, and promoting a general sense of well-being. Use Lepidolite to foster tranquility and peace during stressful times.
3. Blue Lace Agate:
Blue Lace Agate is a soothing stone known for its calming energy. Its gentle, calming effect encourages peace and reduces anxiety. It also promotes clear communication, helping you to verbalize your thoughts and feelings without stress or fear.
4. Amethyst:
Amethyst, the calming purple stone, sits at the top of our list. Known for its spiritual growth and calming properties, Amethyst is a fantastic tool to help you relax. This stone possesses a high spiritual vibration that detoxifies negative energies in your surroundings, replacing them with positive vibes. Amethyst can also help promote restful sleep and vivid dreams.
5. Black Tourmaline:
Black Tourmaline is a grounding stone that shields against negativity and promotes a sense of power and self-confidence. This stone is excellent for dispelling fear and anxiety, offering you a reassuring sense of protection and stability.
6. Fluorite: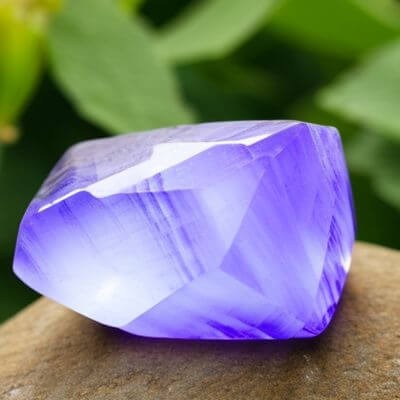 Fluorite, known for its mind-clearing properties, can aid in reducing stress and anxiety. This multicolored stone helps balance your mental state, promoting clarity and decision-making, often easing anxiety and bringing peace.
7. Aquamarine:
With its beautiful sea-like hue, Aquamarine is known as the 'Stone of Courage and Protection.' It emits calming energies, reduces stress, and quiets the mind. It's also known for its ability to foster tolerance, release fears, and promote emotional healing.
8. Labradorite:
Labradorite, a magical-looking stone, can be your ally in times of change and transition. Its protective qualities shield your aura, preventing energy leakage. It's known to combat anxiety and stress by stimulating mental acuity and relieving worry and overthinking.
9. Citrine:
Lastly, Citrine, the 'Success Stone,' is believed to bring joy and positivity. This vibrant yellow stone boosts self-confidence and creativity, helping you overcome fear, depression, and phobias. Its energy can provide you with a sense of overall emotional well-being.
10. Smoky Quartz:
Smoky Quartz, a powerful grounding stone, is known for its ability to neutralize negative energy, relieve stress, and instill calmness. This stone is a go-to for fear management and the release of unwanted emotional patterns.
11. Howlite:
Known for its soothing energy, Howlite calms an overactive mind and reduces stress and anxiety. Its gentle white color symbolizes peace and tranquility, providing support during times of high tension and restlessness.
12. Angelite:
Angelite, also known as the 'stone of awareness,' helps to facilitate a deep sense of peace and tranquility. It encourages forgiveness and compassion, which can lead to emotional relief and reduced anxiety.
13. Moonstone:
Moonstone, with its luminous shine, is a calming stone that promotes emotional stability and balance. It's particularly beneficial in soothing emotional stress, providing comfort and calm during turbulent times.
14. Carnelian:
Carnelian, a vibrant orange stone, is known for boosting courage and self-confidence. While it's more of an energizing stone, its ability to foster a positive outlook can help alleviate stress and anxiety.
15. Hematite:
The 'Stone of the Mind,' Hematite offers strong grounding energy. It helps in organizing your thoughts, aiding in clarity, and reducing feelings of overwhelm and anxiety.
16. Rhodonite:
Rhodonite, often referred to as the 'rescue stone,' provides emotional healing, especially during times of panic or distress. It helps to balance emotions, encouraging feelings of love and forgiveness and decreasing anxiety.
17. Amazonite:
Amazonite is a beautiful green stone known for dispelling negative energy and easing stress. It's often used for emotional healing, as it encourages communication and expressing feelings, leading to a calm and peaceful state.
18. Lapis Lazuli:
Lapis Lazuli is a stone of wisdom and truth. It supports mental clarity, encourages self-expression, and helps one confront the truth, reducing the fears and anxiety that come with self-doubt.
19. Tiger's Eye:
Tiger's Eye, a protective stone, is excellent for releasing fear and anxiety. Its powerful energy helps to balance emotions, fosters courage, and self-confidence, and enhances personal power, helping you remain calm and focused in stressful situations.
20. Sodalite:
Sodalite is a deep blue stone often called the 'Stone of Peace.' This stone helps clear the mind, promoting emotional balance and calmness. Sodalite can also enhance your intuition, encouraging you to trust your instincts, which can lead to less worry and anxiety.
Conclusion:
In conclusion, these top 20 stones are fantastic tools in the battle against anxiety and stress. Remember, these stones possess beneficial properties but should never replace professional mental health advice. They are best used as complementary tools, aiding in relaxation, meditation, and self-care rituals, supporting your journey toward peace and balance.